After a short spell in Cyprus, River favorite Fernando Cavenaghi has hung up his boots for good.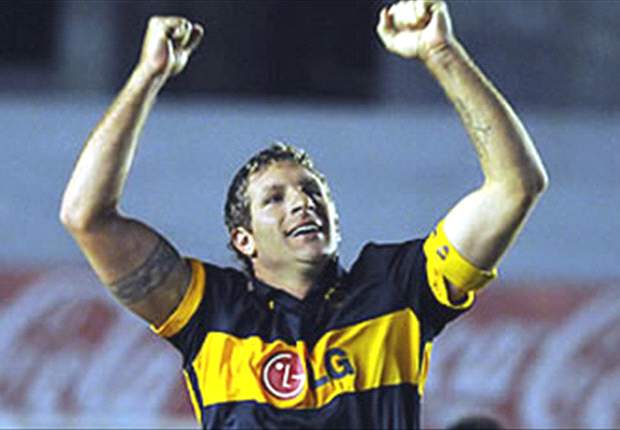 River Plate have enjoyed their fair share of top strikers at El Monumental in recent times, with a select few going on to have considerable success among Europe's top clubs but not many have left the club with a status as revered as that which now belongs to Fernando 'Cavegol' Cavenaghi, who just recently announced his retirement at the age of 33.
Having not played a game for Cypriot side APOEL FC since February due to a recurring injury to ligaments in his right knee, Cavenaghi finished his career with a respectable 170 career goals, 7 league titles and 5 domestic cups, and gave his thanks to River Plate in an open letter published on the same day as his retirement.
Following a hugely successful period at the beginning of his career with River in 2001, scoring 55 goals in 88 appearances, Cavenaghi was lured to Europe in 2004 and joined Russia's Spartak Moscow for a fee of US $9.5 million.
From then on, Cavegol both enjoyed and endured a journeyman-esque career across the pond with the likes of Bordeaux and Mallorca, before returning to South America with Brazilian club Internacional in 2011.
Cavenaghi then decided to return back to Buenos Aires to represent River Plate after the club got relegated to the B Nacional. This decision paid off and the man found himself amongst the goals once again, scoring 19 in 37 appearances.
Success in Argentina's second tier led Cavenaghi, perhaps lacking in good advice, to go and have another crack at Europe's top leagues with Villareal in 2012, scoring 4 goals in 18, before joining Mexico's Pachuca in 2013, adding another 4 to his tally.
Once more, however, the relative proximity to his home country proved too tempting and, for a third time, Cavenaghi pulled returned to River Plate and led the club to their most successful season in recent years, scoring 21 and winning the league, the Copa Sudamerica and Copa Libertadores respectively.